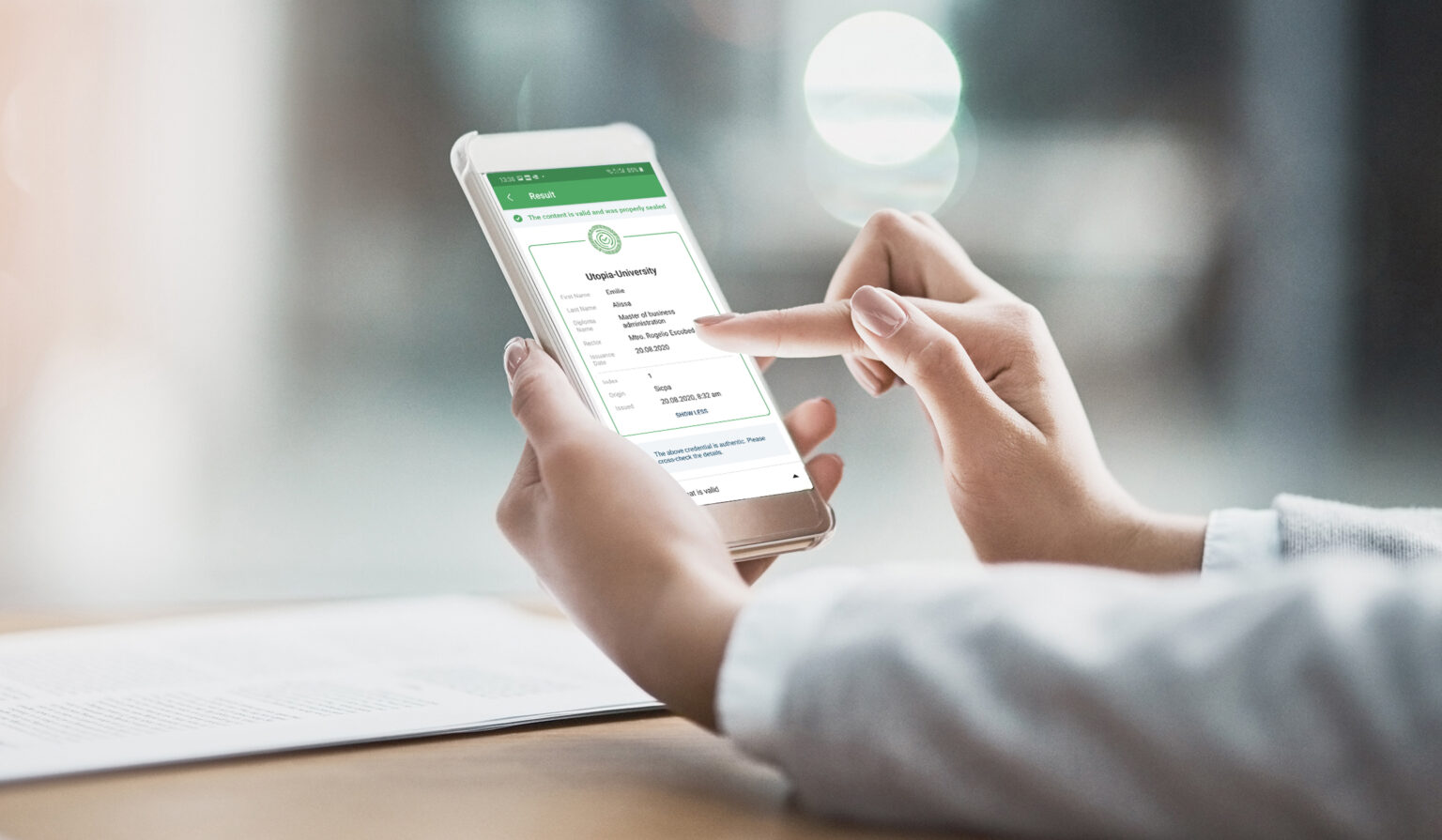 Ultimate Protection
at Fingertips
Protect your reputation
The authority responsible for issuing or updating the certificate or official record can rely on CERTUS® to protect sensitive digital content and printed documents.
By guaranteeing the integrity and authentication of the data at all times, anywhere, the issuer not only preserves its reputation but also reinforces trust within the holder and verifier community.
Simpler verification procedures, time and money saving
As a document issuer, whether private or public, you spend valuable time and money verifying documents already issued to holders.
With CERTUS® you have a means to reduce the administrative burden of current systems and put a simple and effective tool in the hands of third-party verifiers.
This enables individual document holders or verifiers to take charge of the verification process themselves, without the need to contact you directly or access your systems.
You can free up time and money spent on traditional verification processes and put this simple, cost-effective and easy-to-use solution into action.
Designed for all types of credentials, records and content
Academic records

(Degree and Diploma certificates, Course completion certificate)

Civic records

(Certificates of birth, Death, Marriage)

Legal records

(Notarial acts, Property title deeds, Will, Apostille)

Official documents

(Vehicle registration, Licence to operate, Company Registration)

Financial records

(Grant, Loan, Proof of insurance)

Health records

(Prescription, Personal medical record, Licence to practice)

Business records

(Trade licence, Tax certificate, Invoices)

Simple, cost effective

CERTUS® is a digital solution operated by SICPA and delivered to customers as an online service – SaaS, Software as a Service.

It is based on a proven blockchain which has been in operation for more than ten years and does not require any specific customer setup.

CERTUS® is easy to set up and can be immediately operational for a wide variety of use cases.

Full automation and integration with existing IT processes can be achieved thanks to the simple and open REST API.

Privacy-preserving

CERTUS® is 100% privacy-preserving. Personal and sensitive data are never stored, neither directly, nor encrypted, in any database or on the blockchain.

Only the indecipherable digital seals, needed to verify a secure mark, are secured by the blockchain to ensure their lifelong immutability.

Universal verification, lifelong value

CERTUS® protects both the credibility of the issuing authority and the value and legitimacy of certificates issued to holders.

Secured by blockchain technology, verification is quick and proven for life.

CERTUS® works even for very short term credentials like access passes or medical prescriptions and keeps immutable records of issued certificates.