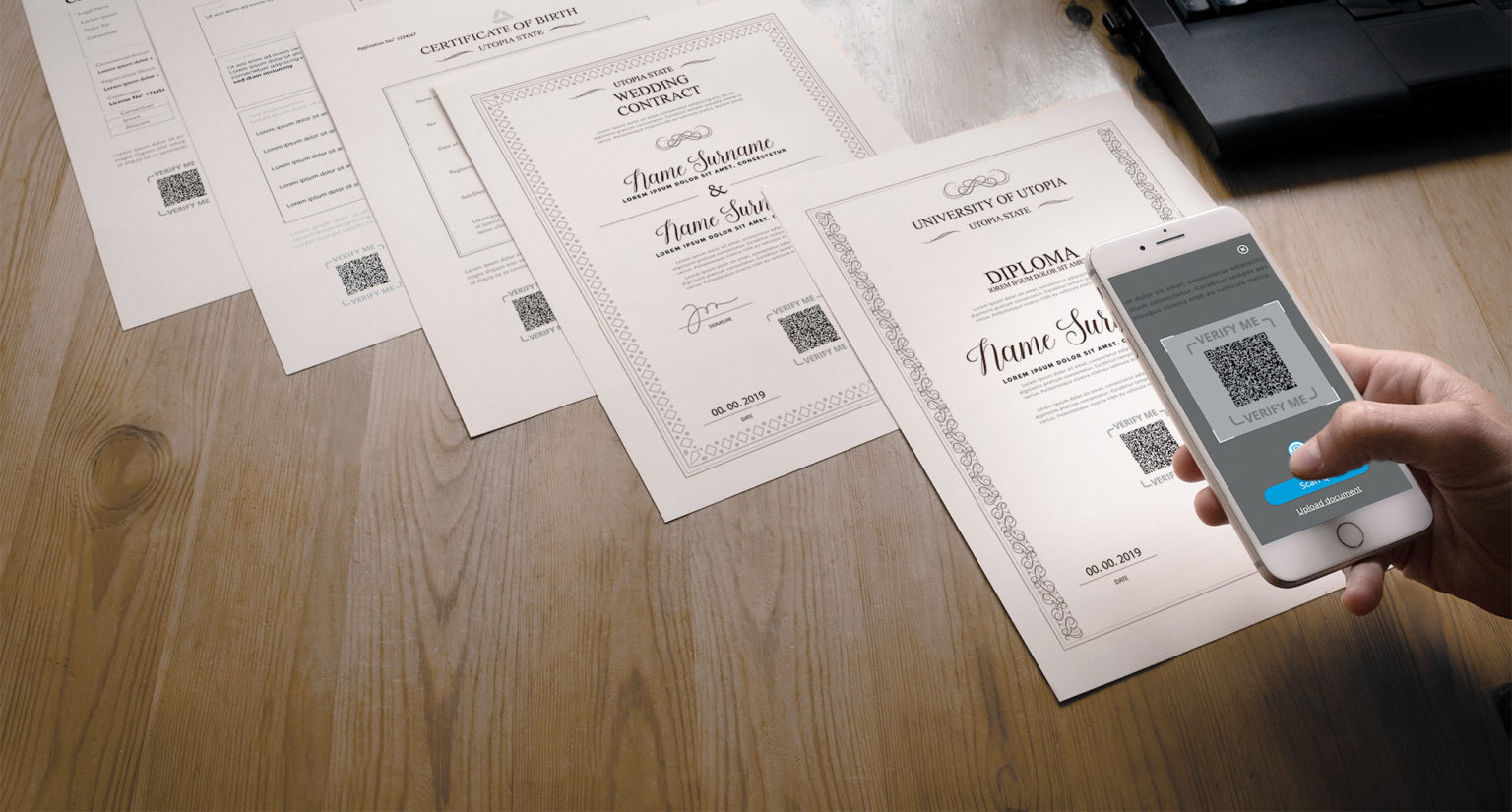 Independent and lifelong verification of document credentials
Verify your document
Look for the Digital Security Seal secured by blockchain technology which guarantees the integrity of the certificate for life
Scan QR code
CERTUS is a novel digital solution that enables document issuers like educational institutions, government bodies, administrations, accreditors, international organizations, sports associations, companies or notaries to secure value documents, credentials and qualifications.
It is a cost-effective next-generation security solution which sets a new standard in securing sensitive paper-based and digital documents, credentials and qualifications.
Strengths of Certus:
Independent and universal verification
Secured by blockchain technology, verification is quick and proven for life.
Paper & digital documents
The technology is specially designed for both paper-based and digital certificates
Privacy-preserving
No need to store personal data thanks to the unique proof delivered by the digital security seal
Authenticates the issuer and the protected data.

Lifelong validity of issued certificates.

Immediate access to a simple and cost-effective online service for managing secure certificates, no infrastructure required.

Enables offline verification.

Versatile solution, protects any type of data structure.

"CERTUS® has allowed us to cost effectively enter the digital security space with an unique product to secure our customers credentials without our competition being able to match us"

José Carlos García Torres, Chief Operating Officer (COO), Grabados Fernando Fernández

"We are expecting that more than 100,000 myHealth Pass will be delivered by KDL labs and secured by CERTUS® by the end of 2020"

Yuri Leonov, Chief Executive Officer (CEO), KDL

"CERTUS myHealth Pass offers a technology-based solution that can eliminate battling the bureaucracy and fluctuating regulations, allowing us to focus on other aspects of facilitating a crew change to get our colleagues home"

Jonathan Jones, Chief Executive Officer (CEO), Crew Assist

"This is the first fully secured system to be put in place in the professional sports sector to manage Covid-19 risks"

Sergey Dobrokhvalov, Vice President of the KHL

100% secured credentials

Based on mathematical proofs, the origin and legitimacy of the credentials are 100% secured. CERTUS™ provides independent verifiable proof of:

Date and time of issuance of the document

Name of the issuing authority

Current validity of the document (active, expired,
revoked)

Authenticity of the underlying claim

Who benefits from CERTUS?

CERTUS is a versatile solution that can be used to issue and secure a range of official documents and records. It benefits all parties involved in the verification of official documents and records:

Issuers

The authority responsible for issuing the certificate or official record can rely on CERTUS to protect its reputation as the rightful issuer and enable trust among its community of holders.

Holders

Document holders can rest assured knowing they can irrefutably prove that CERTUS-protected claims are valid and authentic without relying on any third party.

Verifiers

Any third-party verifier, for example employers who are responsible for verifying official documents held by prospective employees, can benefit from the fast and fool-proof CERTUS solution, which will significantly reduce the costs of the verification process.